I need to get blogging again, and I need to get riding again. Despite getting a new bike at the end of the season last year, I don't think I put 300 miles on it in 11 months. The annual Coffeeneuring Challenge gives me motivation and reason to do both. Coffeeneuring, for those unfamiliar, is riding a bike for some non-trivial distance, for the singular purpose of drinking a cup of coffee. The challenge takes place as the days are getting shorter and the air is getting colder, when people tend to put away their bikes for the season. Point being, of course, don't! Get out there and ride, preferably someplace new. Then tweet or at least photograph proof that you went there and did that. Do that for seven weeks in October and November.
I take this idea one further, to hit seven of eight different areas around Pittsburgh. To me, there is no adventure in going to seven nearby coffee shops one town over. The idea is to explore, find out new venues, new roads or trails, new people to ride with, learn about neighborhoods and nearby towns you have not been to. To that end, in 2016 I devised a rough set of destinations.
1 - Near north: North of the Allegheny or Ohio Rivers, but without climbing a big hill or going any distance.
2 - Far north: North of the rivers, but up a big hill, or going some distance into the suburbs.
3 - Near south: South of the Monongahela, but without climbing a big hill or going any distance.
4 - Far south: South of the Mon, but up a big hill, or into the suburbs.
5 - Between the rivers: In the city. Getting east of the Blue Belt is #8.
6 - West: Anywhere south of the Ohio and west of US19 is a particularly difficult area to get to.
7 - Distant diagonal. McKeesport, Cheswick, Emsworth, are all close to a river but a long distance from the city.
8 - Far East: Similarly, anywhere east of the city line is an entirely different area from close-in city neighborhoods between the rivers. For purposes of category, I consider this anywhere beyond the Blue Belt, a series of roads that roughly denote the eastern edge of the city.
Ride #1 -
OTB Bicycle Café, North Park (northern suburbs)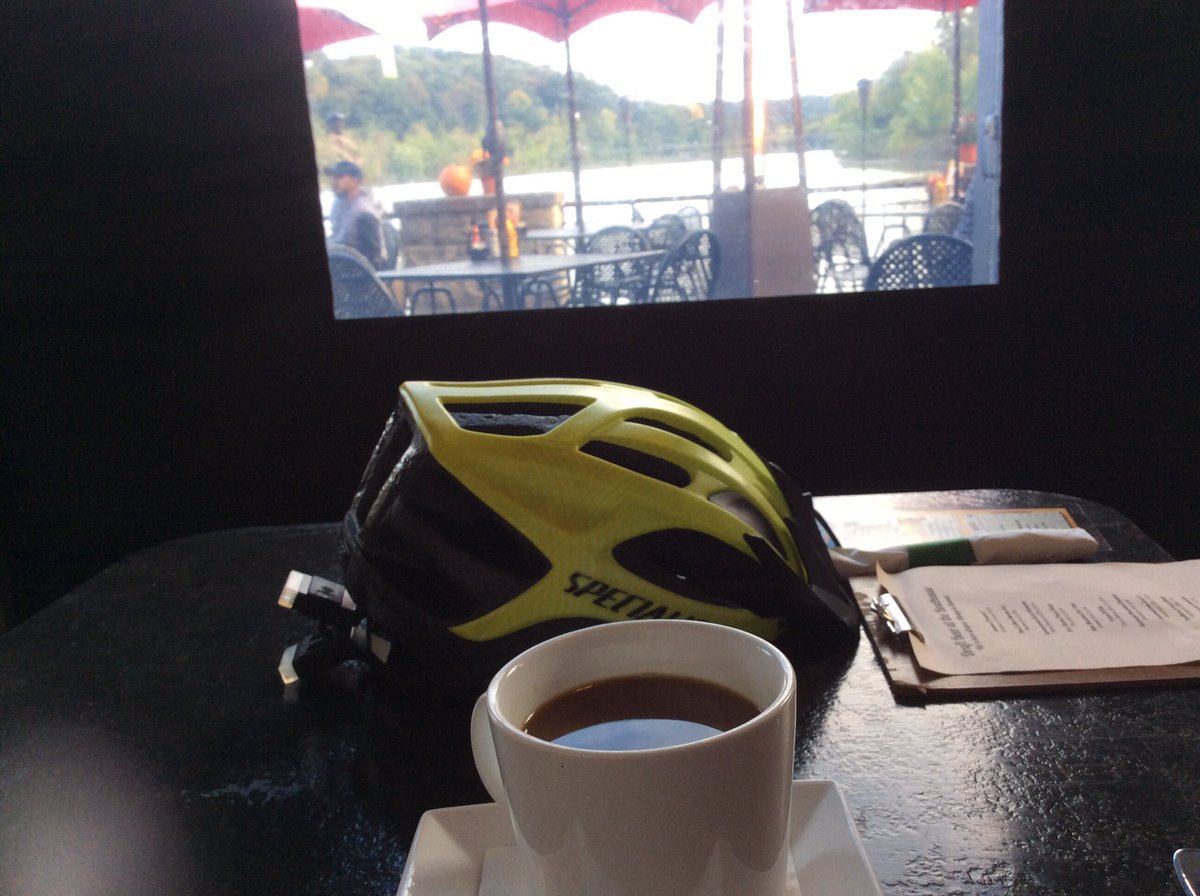 For me, since I live in what classifies as far north, I tried to pick a location that I had not previously biked to. I also got a late start, past 4:30 p.m. on a Sunday. Though I'd been out on the bike earlier, it didn't occur to me to try to work in my coffee adventures as part of my travels. So much for planning.
Where to go? A good Plan B was the Panera barely two miles from the house. But I'd used that for my 2016 far north trip, and I ate there within the week. No adventure there.
Well, how about North Park? I had not yet eaten at the OTB Bicycle Cafe in the park, though I'd been to their South Side location many times. OK, that's a plan. Nor had I biked to the park in a very long time, probably a couple of years.
Once there, I ordered a coffee, and since the sun was getting low in the sky, got my obligatory tweet sent while I could still see the lake. Dinner itself was pierogies and a pumpkin ale. It all tasted great and settled well. But with tip, the bill got darned close to $25. Can't do that every day!
The trip back, it was starting to get dark, and was fully dark by the time I arrived home 20 minutes later.
The only unfamiliar road here was Babcock, strange in that the start of the unfamiliar part isn't a mile from my house. Just that I never go that way.
Ride #2 -
Between the rivers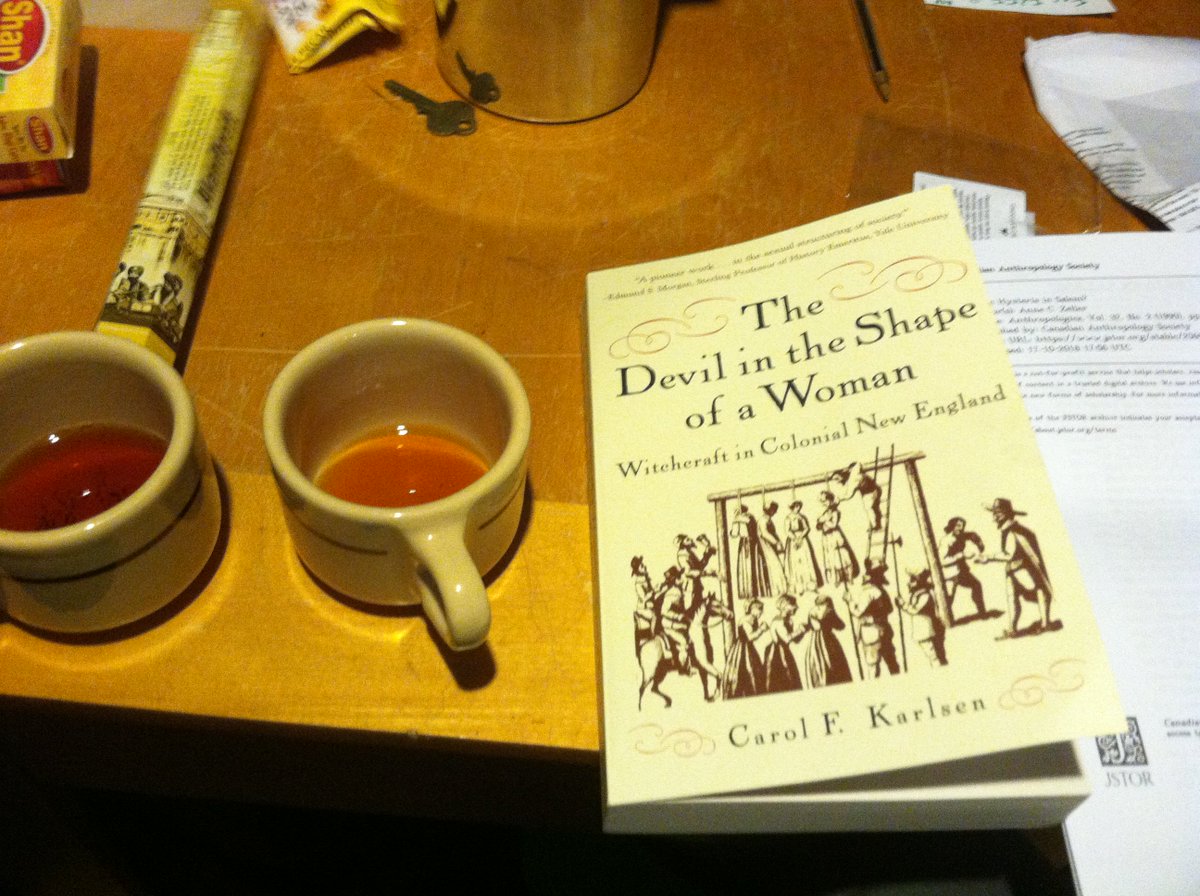 This started as a 412 Flock ride. "Flock" rides grew out of Critical Mass rides a few years ago, and a core group of the original Flock riders meets at Dippy, the huge dinosaur outside the Carnegie Museum in Oakland. That day there were just three of us.
Of that, two of us headed for his book study group that meets at The Big Idea Bookstore on Liberty Avenue in Bloomfield. Turned out to be an enlightening discussion of witchcraft and witch trials in 17th century North America.
Also, tea. You cannot properly discuss books and their contents without a pot of tea on the table. [pictured]
My trip to the ride started, oddly enough, in a park. There wasn't enough time to ride to the ride from home, and parking in Oakland is always difficult, so I drove to a spot in Schenley Park, more than a half mile from our rendezvous point, but what's a half mile on a bike?
From Dippy, it was a fun little ride on Forbes, Craig, Bayard, Neville, Centre, and finally Millvale Ave up to Liberty, where we parked the bikes outside the shop.
After discussing witches and religious trends and political and world history for the last 400 years, we tied it up for the night. I reversed my tracks - Millvale, Centre, Neville, Fifth, Dithridge, Forbes sidewalk, library sidewalk, and back through the park to the car.
Ride #3,
West End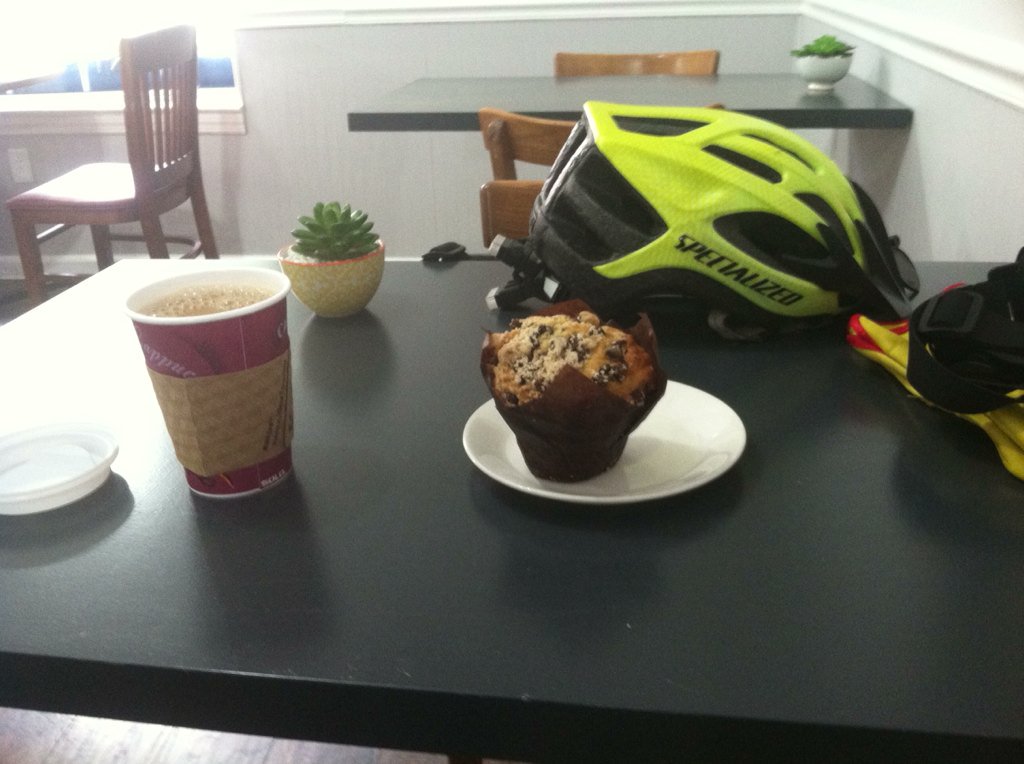 I got out of work early on Friday, before 3. I had an all-night work commitment the following night, which was going to make any sort of bike trip over the weekend difficult, so if I wanted to complete this week's installment of my Coffeeneuring challenge, it was now or never. The question was, where?
Retrieving the bike from the Third Avenue Garage, I noted with pleasure that Third Avenue now has a contra-flow bike lane, facilitating riding toward Grant Street. I would not have noticed that were it not for this trip to parts unknown. Then I biked south on the Smithfield St bus lane, now legal to bike on. It even has bike symbols between the words of "bus only". Nice touch, whoever arranged and designed this.
Straight across the Smithfield St Bridge, ported down the steps, and rode through Station Square. I was still not sure where to head from there. Choice A was to go up the Duquesne Incline and find a coffee shop in Mt Washington (south up a hill). Choice B was to head west, out West Carson (west). That decision was guided by checking my lights and cameras. If anything was amiss, Mt Wash; all good, west. Once heading west, decide: West End or McKees Rocks? As I didn't feel like dying on outer West Carson, I went with West End.
The first place I came to was the 412 Café on South Main at Sanctus. I wasn't too hungry; I'd just had lunch an hour or so ago. But I'd heard good reviews of the place, so partook of a simple cup of coffee and a muffin. [insert tweeted photo here]
Ride #4 –
Coughlin's Law, Mt Washington (south up a hill)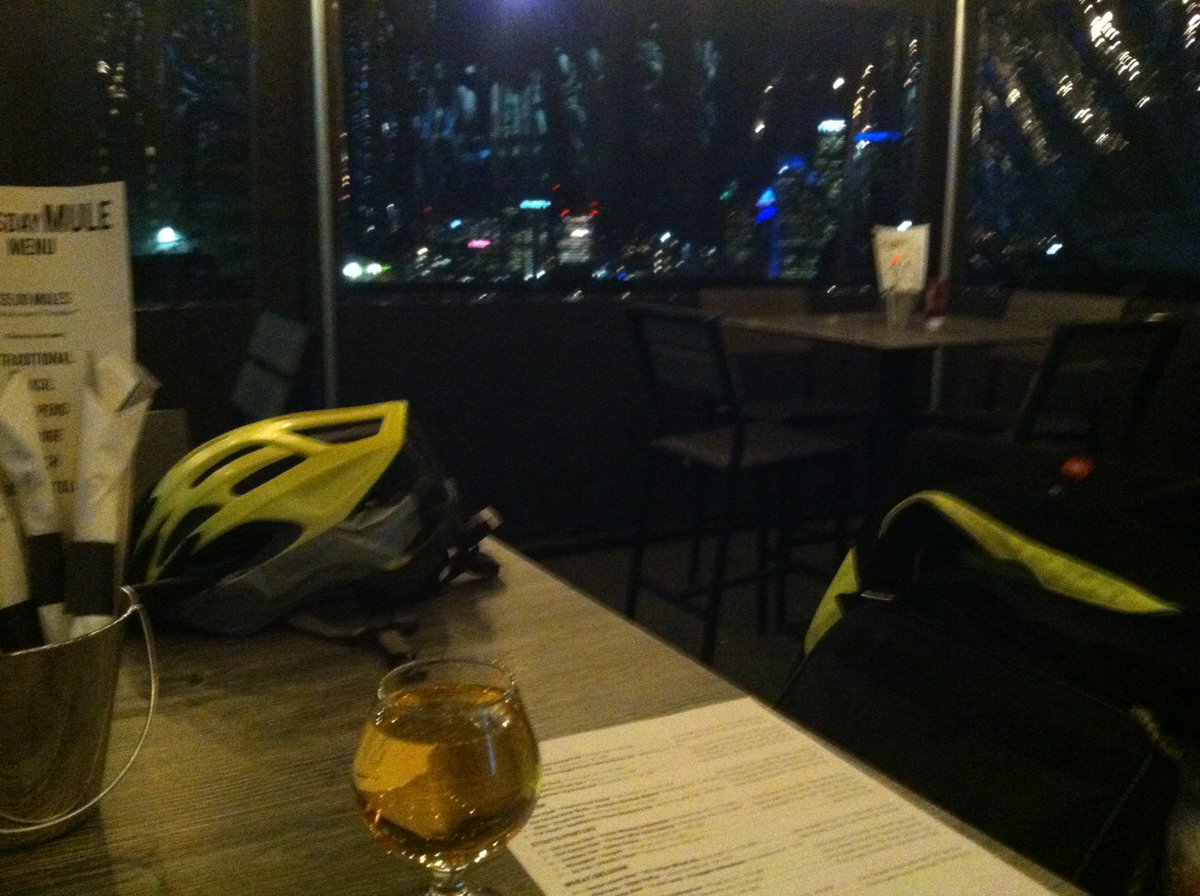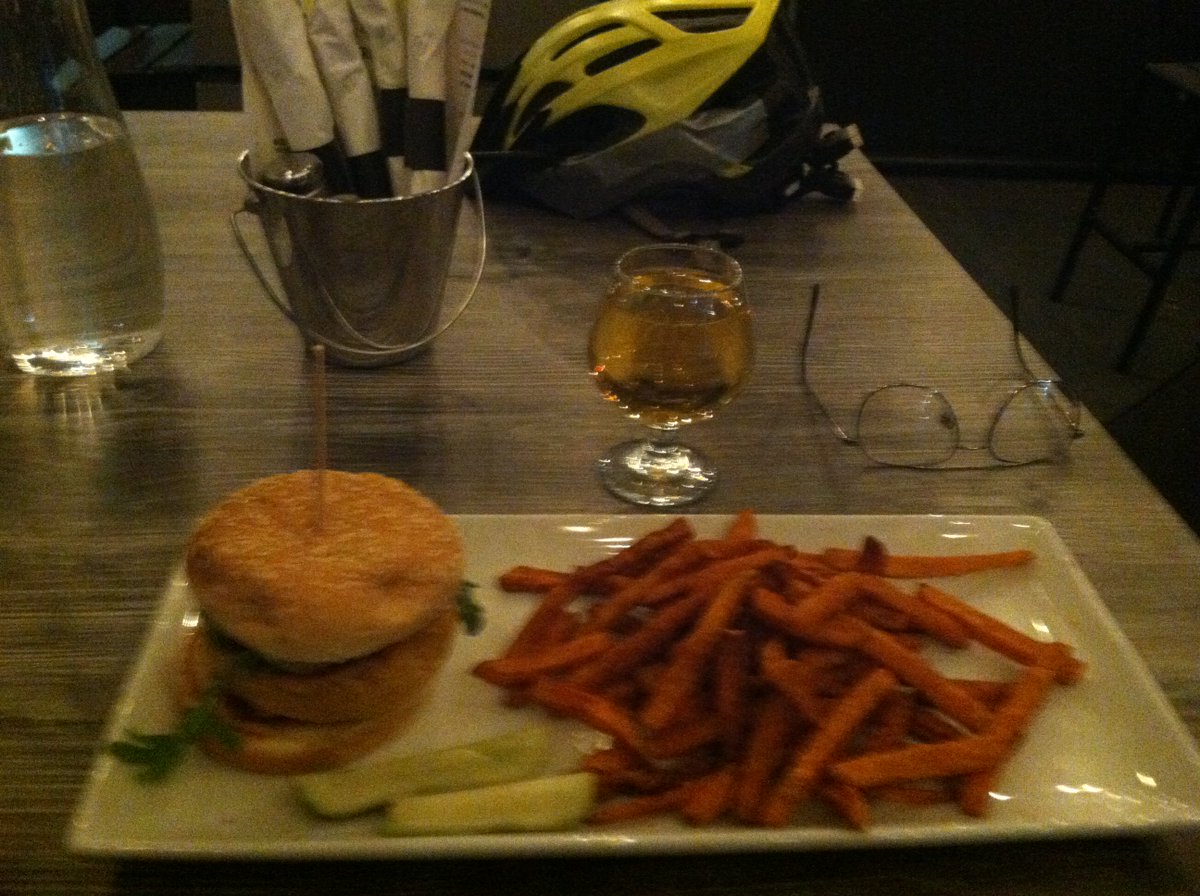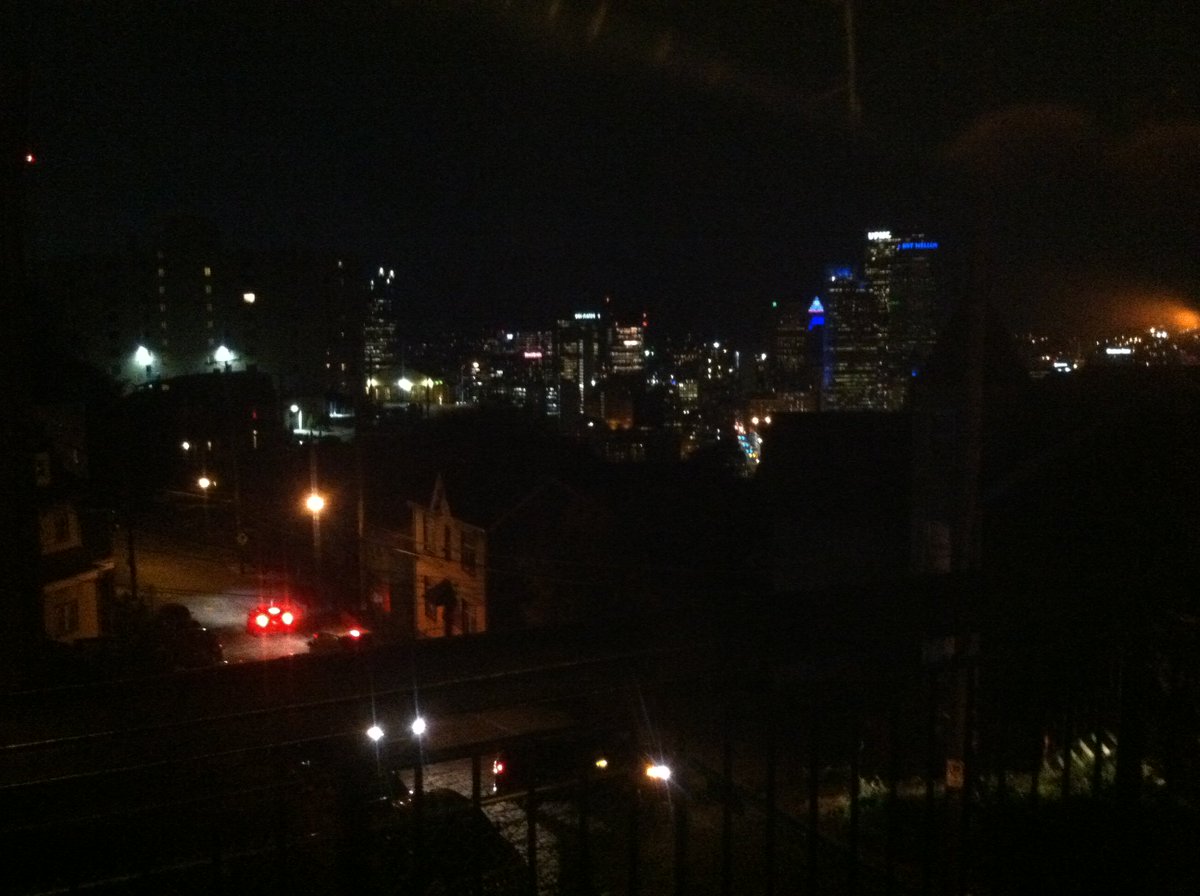 For this ride, I only knew I wanted to head south. How far south, and getting what, I didn't care much. I found myself climbing Sycamore Street, one of the toughest hills in the city. This became a problem, as my chain was skipping badly, to the point where I nearly had to get off and walk. Somehow I found a gear I could climb in, though, and made it up to Grandview Avenue.
However, there are no coffee shops on Grandview, and precious few choices of any type. I ducked back to the main commercial street a few blocks away, and started scouting choices. There really wasn't much outside of gas stations and convenience stores, and I didn't really feel much like leaning against a brick wall and gulping down coffee from a styrofoam cup.
Where I ended up was Coughlin's Law, a trendy restaurant that ended up costing me even more than my OTB trip a month earlier. But it got me out of the traffic downtown (Thursday night Steelers home game), and got me some choice cider along with a huge meal.
Ride #5 –
Crazy Mocha, South Side Works (south near the river)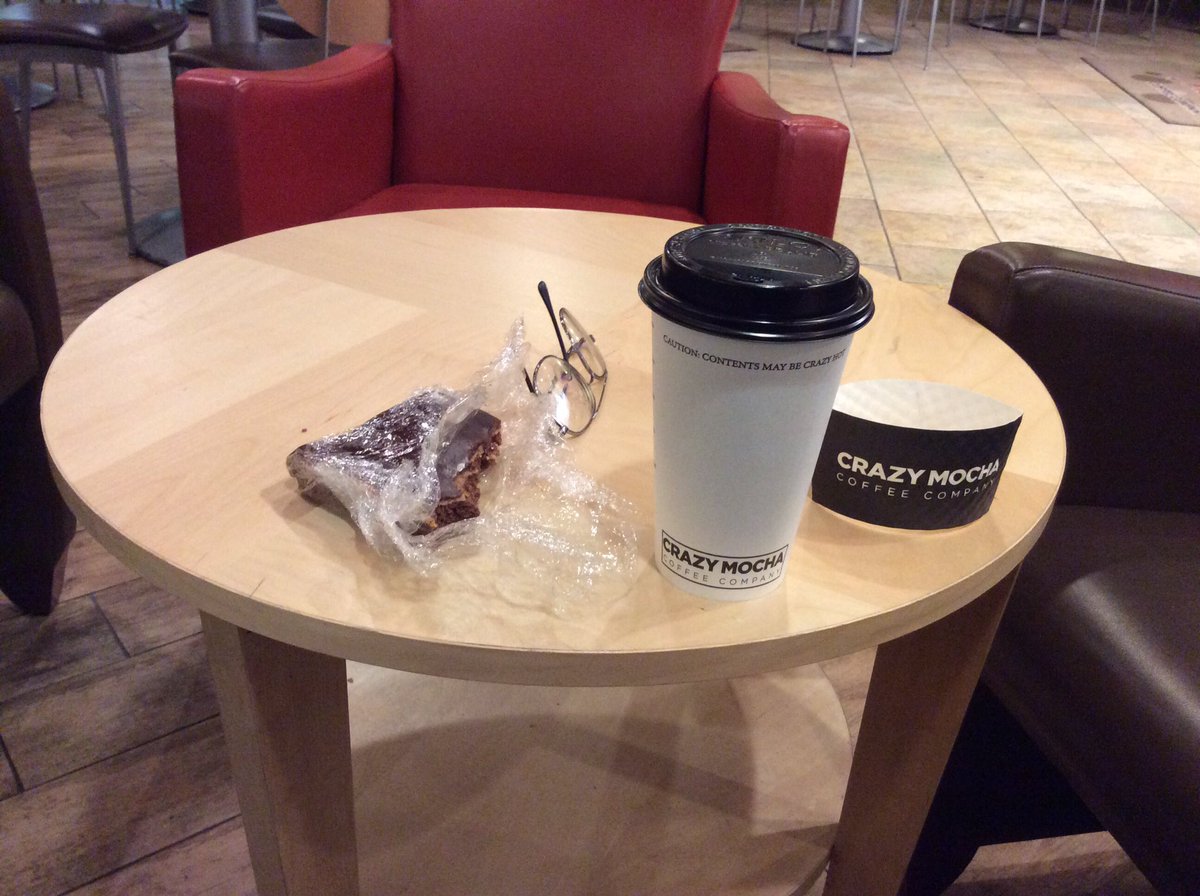 This one was totally on impulse. I didn't feel like heading straight home after work one day, and the weather was decent except for being a bit breezy, so I rented a bike and headed out the Jail Trail. I wasn't sure if I would head out toward McKeesport like I did in 2016, or simply short-circuit that by picking a coffee shop on the South Side itself. I opted for the latter.
The trip out was fun! I flew like the wind! Turns out, as I discovered on the way back, that it was indeed a strong tailwind that pushed me along, as I fought a strong headwind all the way back downtown.
I didn't feel all that adventurous once I parked the bike, so landed at the Crazy Mocha on East Carson in South Side Works, a place I'd been many times before. But it fit the bill, so I got a brownie and a cup of coffee, pawed through my social media feed, and called it a night.
Ride #6,
Tazza d'Oro, Millvale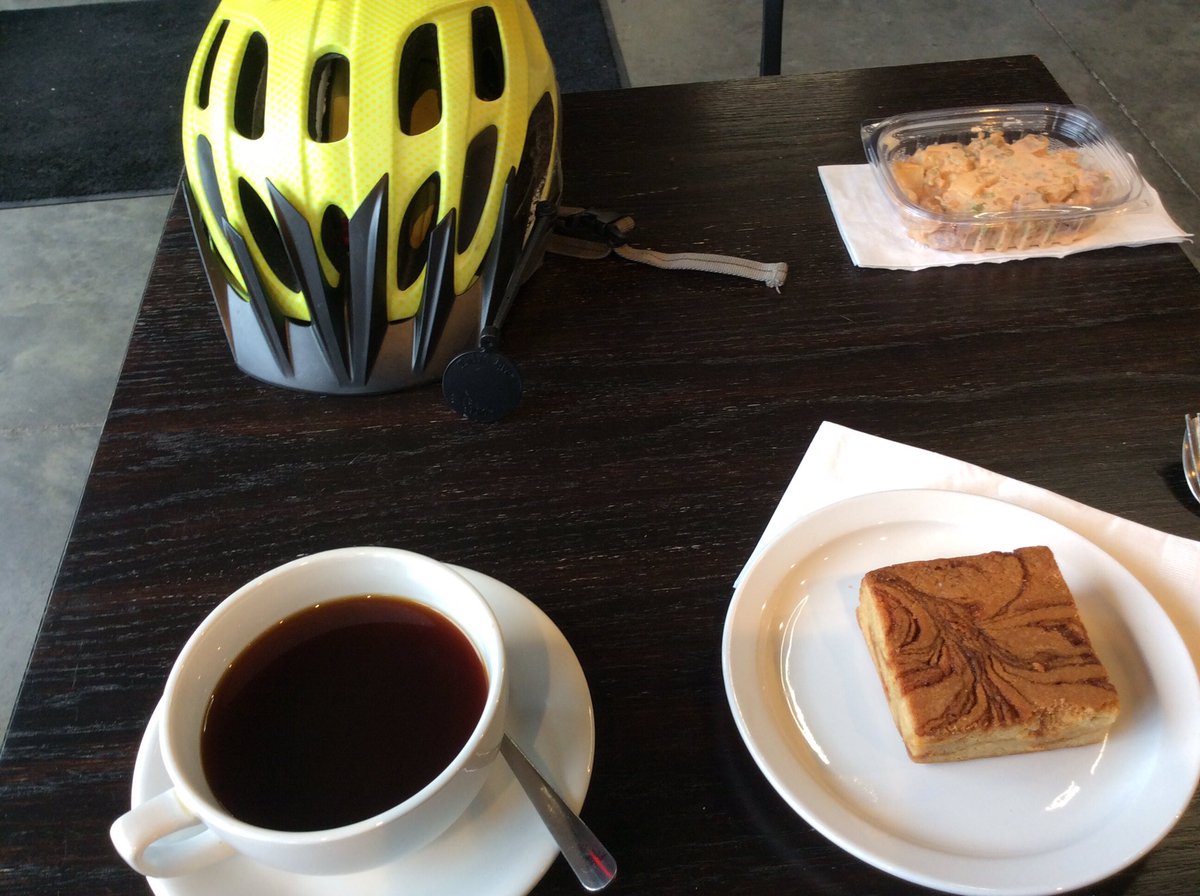 For my sixth trip, I limited myself to either the North Where It's Flat or Distant Diagonal. After losing all of last weekend to a weird work schedule and rotten weather which stayed unpleasant all week, I wondered if I would fit in these last two trips at all. Sunday morning dawned looking pleasant, though, but my initial plan to drive the bike to a different starting point as part of my food rescue mission got kiboshed by oversleeping.
The chain and drive train got oiled well after the Mount Washington trip, but I found out in my first half mile that I was still having trouble. This was going to limit my travels, but didn't veto the trip altogether.
I made it almost to 30 mph on my way down six-lane McKnight, but even this wasn't enough to stave off the haters who flew past me one or two lanes over, 10-15 over the posted-40 limit, complete with profanity and horns. Just verbal harassment, but good to grab plate numbers nevertheless.
Upon reaching Millvale, I debated whether to remain there or brave the railroad ballast to Sharpsburg. Millvale would be "level north", Sharpsburg would be distant diagonal. As I hadn't eaten lunch, and the brand new TdO was right next to me, that was an easy choice to make. Stop in and get some food.
Ride #7 -
Anchor & Anvil, Ben Avon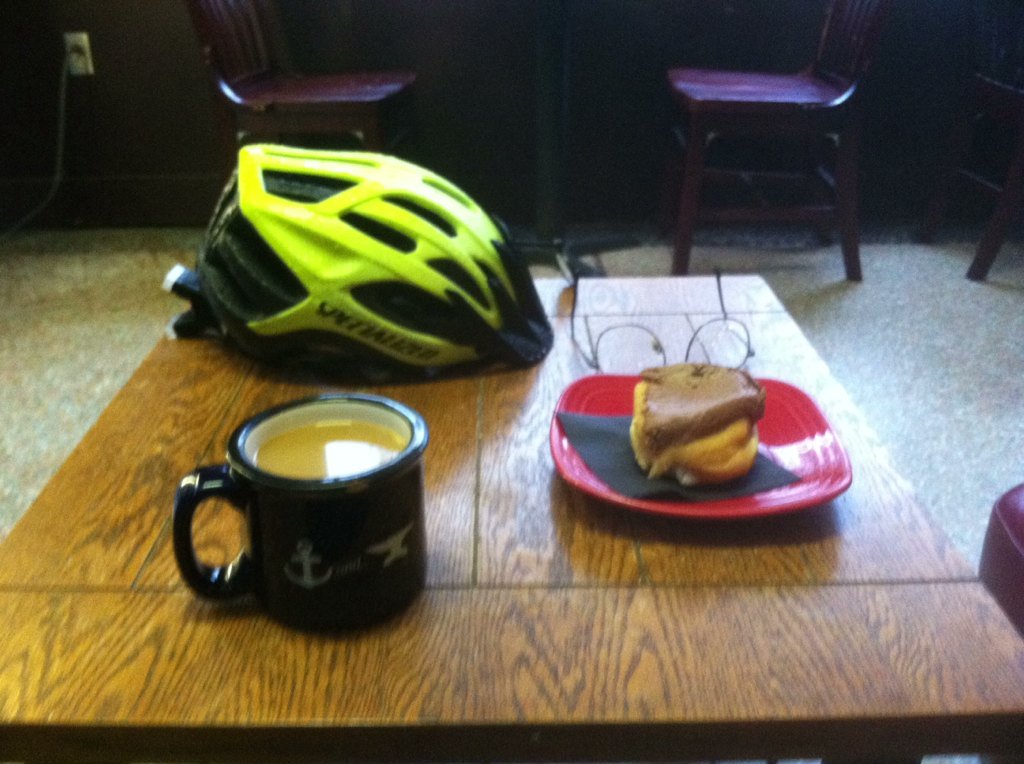 Friday I had to work all day, and though I worked from home and the weather was great, it was nearly sunset before I even had a chance to get out the door. Saturday dawned with a downpour, nearly a half inch of cold rain before noon. Some places nearby had freezing rain, so I was almost ready to call the whole day a wash. But it warmed into the 40s after lunch and the rain petered out to a mild drizzle, so I said Rule 9, strapped the bike to the car, and went one town over to start my trip. (Between being hit in 2016, and dozens of horns and verbal abuse and many close passes, all within two miles of my house, I avoid the main road next to my house if I can.)
Where to go? I wanted to try a distant diagonal, but didn't feel like driving anywhere beyond where my errand had me go, to West View, a mere three miles away. Good enough, though. Three miles from that is Bellevue, from which I could hit any of the Ohio River towns NW of Pittsburgh.
West View to Ben Avon is a pretty low-key ride, just rolling hills through the suburbs on what had at one time been a trolley line, so sight lines are good, the grades are manageable, and traffic speeds rarely exceed 25 mph. From Bellevue I knew I couldn't get beyond Emsworth before I ran out of good road, but when I saw Anchor and Anvil Coffee Bar in Ben Avon, I knew I'd found my destination. Also not lost on me was that it was "small business Saturday", so I was quite willing to spend a few bucks there.
Even better, they had Oram's Donuts! If you're ever in the NW reaches of Pittsburgh, you *have to* find Oram's Donuts. Their store is, I think, in New Castle? Some ways up north. You have to look for them! Their cinnamon rolls will feed an army, or one very hungry person. I settled for a donut.
The trip back to West View was also uneventful. Not a single horn, holler or close pass.
Trip #7 in the books! And so is the challenge!